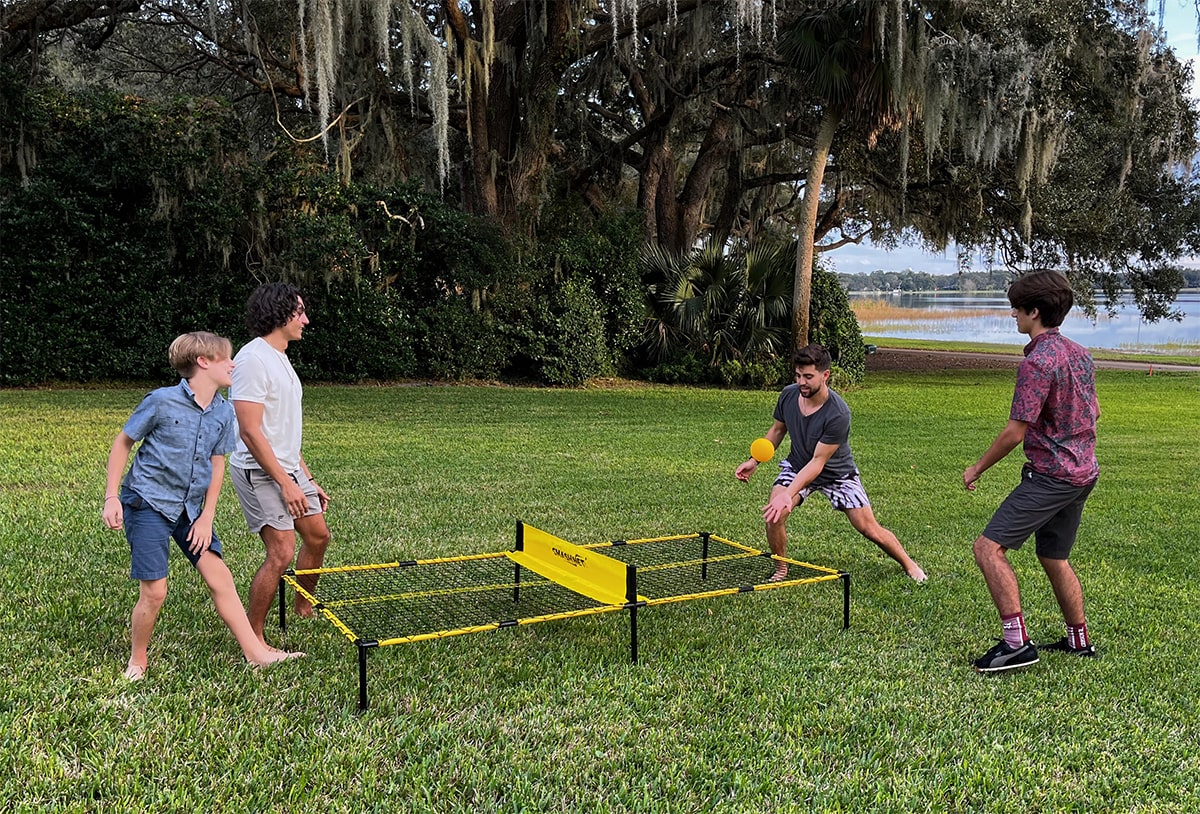 WHAT IS SMASHNET?
We invented SmashNet while on a mission to create the world's most fun backyard game. Play to 11 points, with you and your teammate defending your side with up to three hits. Smash the ball as hard or as strategically as possible so your opponents can't return it.
PLAY ANYTIME, ANYWHERE!
Perfect for All Ages

Great for the backyard & beach

Sets up in less than 3 minutes

Durable & portable
REVIEWS FROM PLAYERS
A FAMILY FAVORITE AT THE BEACH
After getting it and taking it on some beach trips it's definitely worth it! So fun and easy to put together. Lots of family fun. Easy to tote around. I definitely recommend it, especially with kids.
fun and exhausting
I bought this bc my kids were spending too much time indoors - our whole family loves it now! Great game to play outside on cool nights and fun to watch and wait your turn too. The bag is a nice touch and makes it easy to lug around to the park or for camping.
Great party game
Always a good time when this game gets broken out. I have 15 and 13 yr old boys and they love it. Worth the money.
Great outdoor game
I bought this for gift for my nephews birthday. fun game easier than you think lol. I imagine it would be great to have at the beach. It's quite well constructed and easy to assemble. The carry bag is a great bonus.
 Such a fun game
We got this for a family reunion party. While there is a small learning curve, fun was had by all. We've played it dozens of times since and seems to be a permanent addition to our backyard now. Great family game. Perfect to travel with for vacation. Easy assembly.
THIS GAME IS NEXT LEVEL
This game is unreal. Wasn't sure how well the ball would bounce on the net but it's flawless. Really good design. Money well spent. Customer service was TOP notch. Get one!